Roll over image to zoom in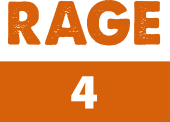 Video
Features
The Evolution RAGE4 is a 185mm chop saw designed exclusively for Electricians and Plumbers. Producing fast, ultra-clean cuts through armored cable, Unistrut and cable tray, as well as conduit, chrome, copper & plastic pipe, plus plastic hose. Easier to use than a hacksaw, far more portable than a 14" (355mm) chop saw.
Multi-Material cutting technology. One saw, one blade, cuts all.*
Accurate cutting - cuts mild steel with ready-to-weld, clean & square cold-cuts.
Unlike abrasive cutting, the RAGE4 TCT blade cuts steel with no harmful dust, no burrs & virtually no sparks, leaving an instantly workable finish.
Reliable smooth square cutting every time in a variety of materials.
Powerful 1250W hi-torque motor with optimized gearbox & blade system.
Accurate & durable vice portability with 0˚ - 45˚ miter detents.
A robust, durable base - ideal when handling heavy-duty, metallic applications.
Lightweight, easy to transport, taking up little space, weighing only 9.1kg.
Versatile, repositional fence for cutting of round, square & rectangle materials.
Chip guard & dust extraction port for added safety & cleaner working environment.
Compatible with the Evolution 185mm Diamond blade for cutting stone, concrete, and brick. (Sold separately).
Premium Japanese Tungsten-Carbide-Tipped (TCT) 185mm blade included.
3 Year limited warranty.
Specifications
Motor (120V 60Hz):
10A
Speed No Load:
4200rpm
Max. Miter:
45°
Blade Spec
Blade Dia.:
7-1/4 in.
No. of Teeth:
20
Bore:
25/32 in.
Kerf:
0.066 in.
Cutting Capacities
Max. Cross Cut (0° x 0°):
1-3/4 in. x 3-3/4 in.
Max. Miter Cut (45° x 0°):
1-5/8 in. x 1-5/8 in.
Max Round Tube (0° x 0°):
2 in.
Mild Steel Plate
(Max. Thickness):
1/4 in.
Mild Steel Box Section
(Max. Wall Thickness):
1/8 in.
Items Included
Instruction Manual
20T Multi-Material TCT Blade
15/65 in. Hex Key (Vice Adjustment)
13/64 in. Hex Key (Blade Change)
1/8 in. Hex Key (Upper Blade Guard)
Rubber Vice Jaw Protector
Dust Extraction Port
Spare Motor Brushes
Dimensions & Weights
Product Dimensions:
10 x 15 x 10.5 In.
Packaging Dimensions:
20-5/64 x 12-19/32 x 12-13/64 in.
Product Weight:
20.1 lbs
Packaged Weight:
22.4 lbs
Cutting Applications

Wood
Hardwood & tanalised decking, MDF laminates, mouldings, reclaimed wood with nails, scaffold boards & poles, stud-work.

 

Ferrous Metal
Mild Steel, angled, box section, square tube, metal stud dry walling, rebar, RSJs, plate (1/4 inch), unistrut.

 

Non-Ferrous Metal
Aluminum, armoured cables, cable tray, copper, floor edgings, roof flashings, stair nosings.

 

Plastic
Electrical conduit, plastic pipes, plexiglas, rubber & reinforced hoses, (WPC) Wood Plastic Composites.

 

Not Recommended
Hardened high carbon, coated and stainless steel.
Note: Cutting galvanised steel may reduce blade life.
Customers also purchased:
Reviews
5% off your first order when you create an account.
Plus earn EVO Points to redeem discounts on your next purchase.
Get Started